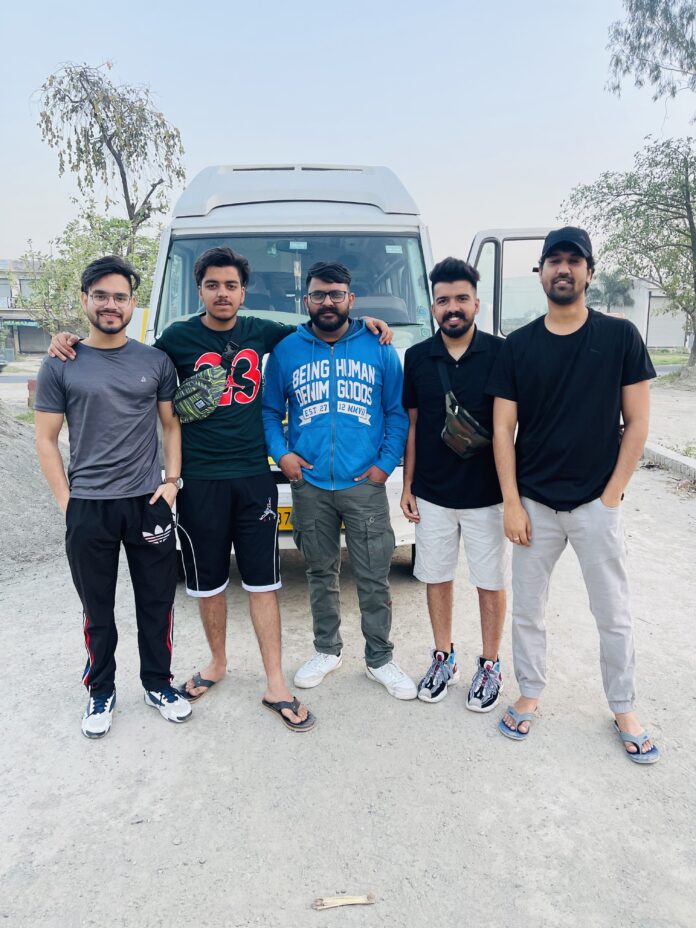 Summary
Here I'm going to share something exciting and some funny moments about my last trip to Unwind. We were 15 people, which were our office cum friends' trip more; due to Covid-19 we had canceled 2-3 plans. That's why we got make a small trip on this Saturday and Sunday because everyone wanted afresh break this week from work. Through this, our office work stress would remove. So after all this planning, we reserved or booked a tempo traveler where we can start our journey and put some excited spark during the journey like- Games, Music or Dance. Then we made a plan to visit Dehradun, and after that, we will leave for Mussoorie and stay there for one night. And on second day we will travel from Mussoorie to Rishikesh and on the same day which is second we will come back to our city Ambala.
Now my trip was about to start
We were ready at 4 o'clock in the morning of Saturday, waiting for our traveler who was to come from a short distance, he probably used to be here within 5-10 but we didn't care that much. So as soon as he came, we set the seat of the entire luggage, etc., and started our trip by taking the name of Bholenath Ji. As I have a habit of laughing and keeping everyone's mind engaged in these things, I started my own style. And don't know about these things we are a cover half area of Dehradun. Then we took a 30-minute tea break which was near Paonta Sahib. Everyone got a little fresh there it was probably around 7 o'clock, and then we left continuing our journey then we took the next break at Dehradun Robber Cave for Breakfast.
Robber's Cave Dehradun also known as Guchhupani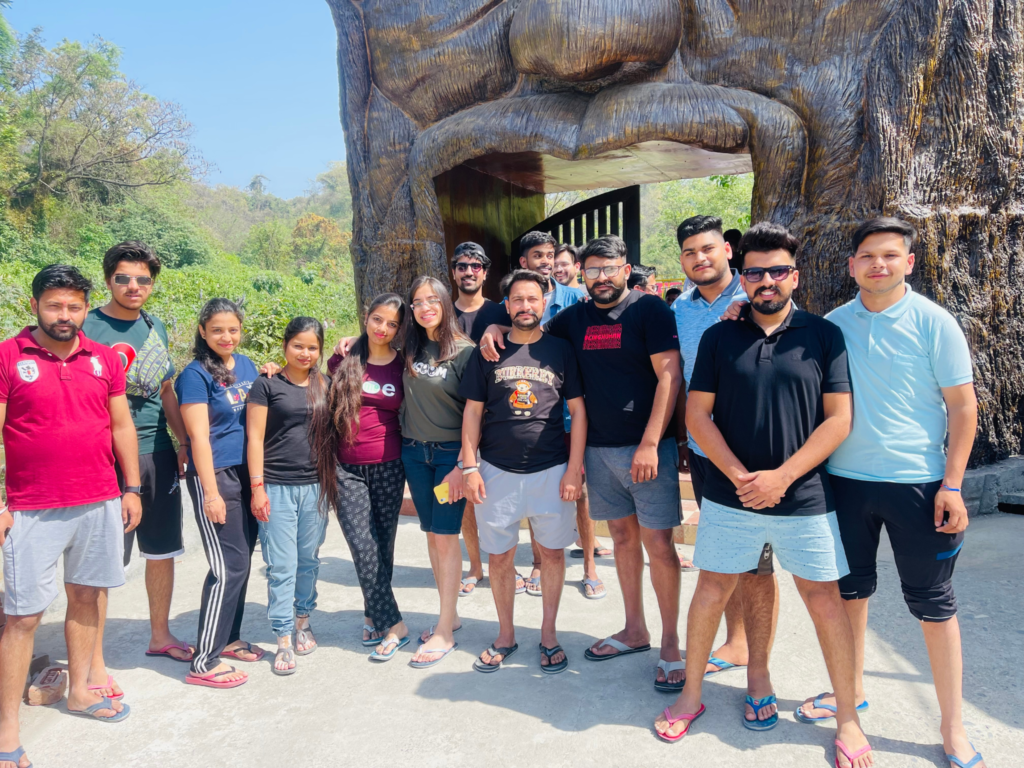 Now I am going to tell you some things about Robber Cave, what is it like and what did we do there.
Robbers Cave, also known as 'GucchhuPani,' was named by the British. Because it was thought that robbers used to hide in Guchhupani after committing crimes, the British named it Robbers Cave.
Guchhupani, also known as Robbers Cave, is notable for its peculiar cold springs that run underground at several points within the caverns. Small and huge waterfalls may be seen there by entering the chilly water with folded our trousers or jeans. Seeing stunning natural rifts or caverns while standing in icy water is both wonderful and romantic. During this summer, young people and tourists flocked to Robbers Cave to escape from the blazing sun. GuchchuPani is quickly becoming one of Dehradun's most popular tourist destinations.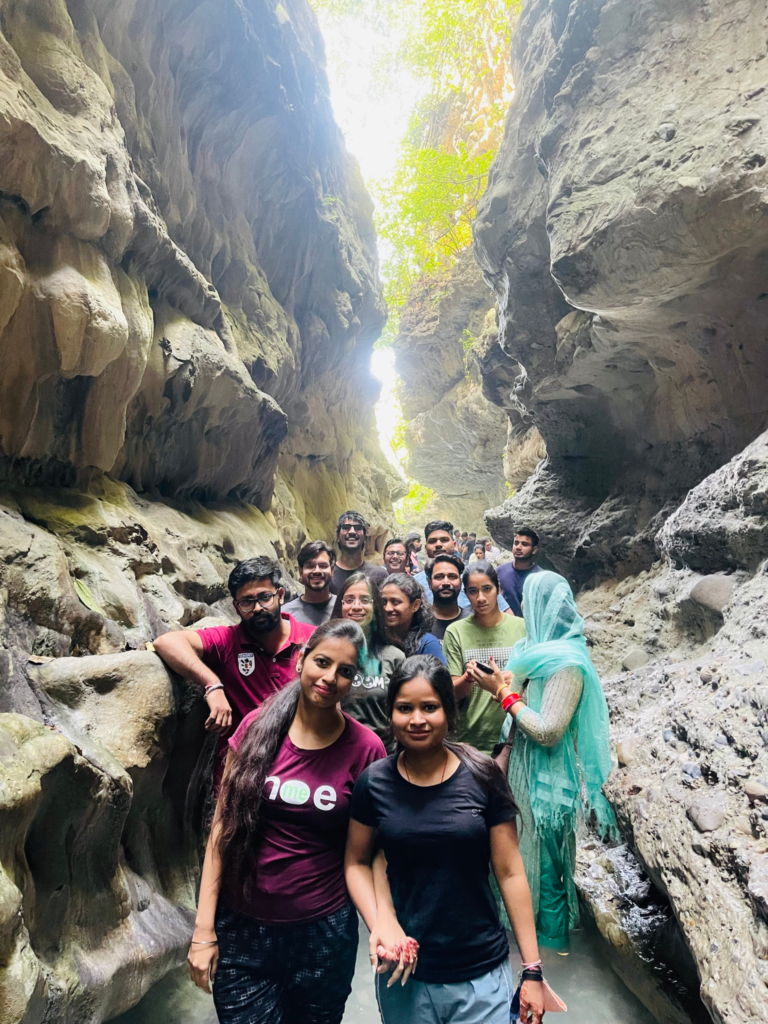 We had a lot of fun in the Robber's Cave, we played with a sponge ball there too. It was a very beautiful and fresh view where we captured many memorable things in our minds, after that a waterfall came in which we all played and bathed plus clicked some pictures. Then there was an adventure task with natural mountains and the way goes through them, some people in the cave house refused to fear it. But I was not going to stop; I always wanted to climb there, so me and some of my courageous friends like Yaman, Vasu, and Aman, all want to do adventurous things. We had full enjoyment and got excited for climbing and then left for Mussoorie as it took a lot of time in Robber's Cave.
Mussoorie: The city of the queen of hills.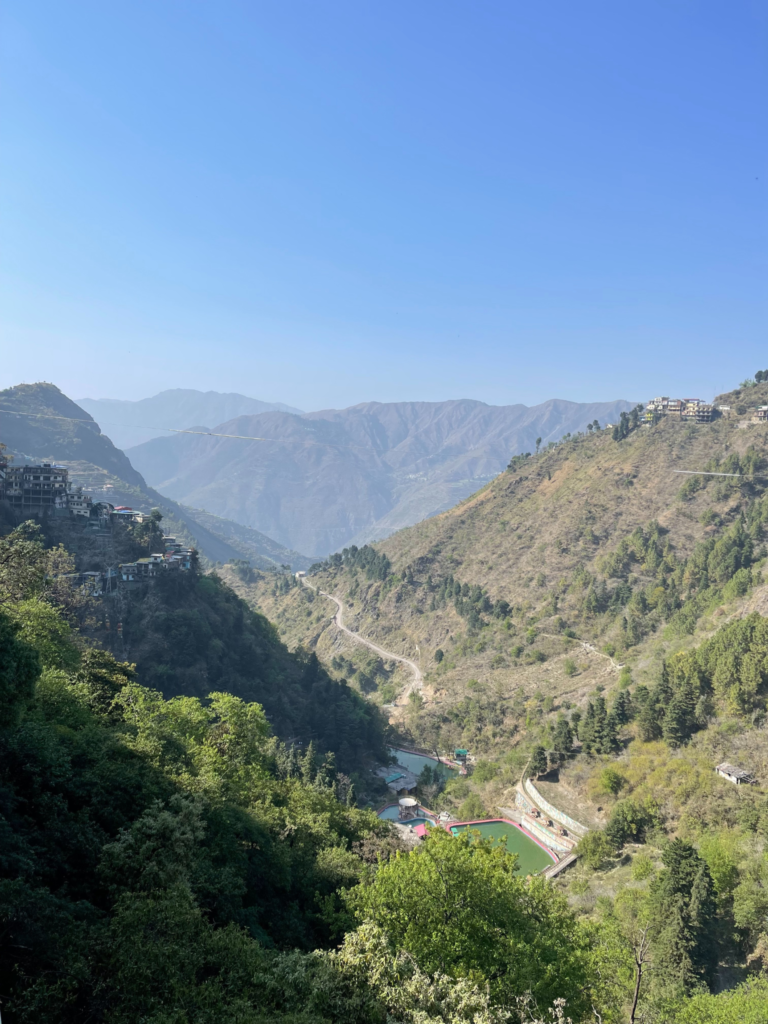 Now we left from Robber's Cave at 12 o'clock and went to Mussoorie around 2:30, then looking at the time where we should first go to Kempty fall? This was 15KM away from Mussoorie! So we reached at Kempty Falls by 3:30 and we had lunch thereafter, we borrowed changing room, the time was 4:30 pm, then we packed bags to move forward. After some movement we went to Kempty Falls, water felt like like an ice block, which was cold even in the summer season, and played there and had a lot of fun, clicked photos, flipping each other in the water.
After that we came to Mussoorie, we already booked our hotel there, named by- Hotel Crystal Palace Mussoorie which was located in the middle of the hills. We step in and got free with all the formalities around at 8 o'clock,as everyone gotexhausted, everyone adjust in their rooms to fresh-up themselves because that night we held a small party at the roof of the hotel. Although that day it was the first match of IPLand I wanted to watch that too as I'm one of the fan of Cricket. We danced at the party along with the match and then it was 2 o'clock at the night and we need to leave Rishikesh in the morning sharply so we walk back to rooms.
Rishikesh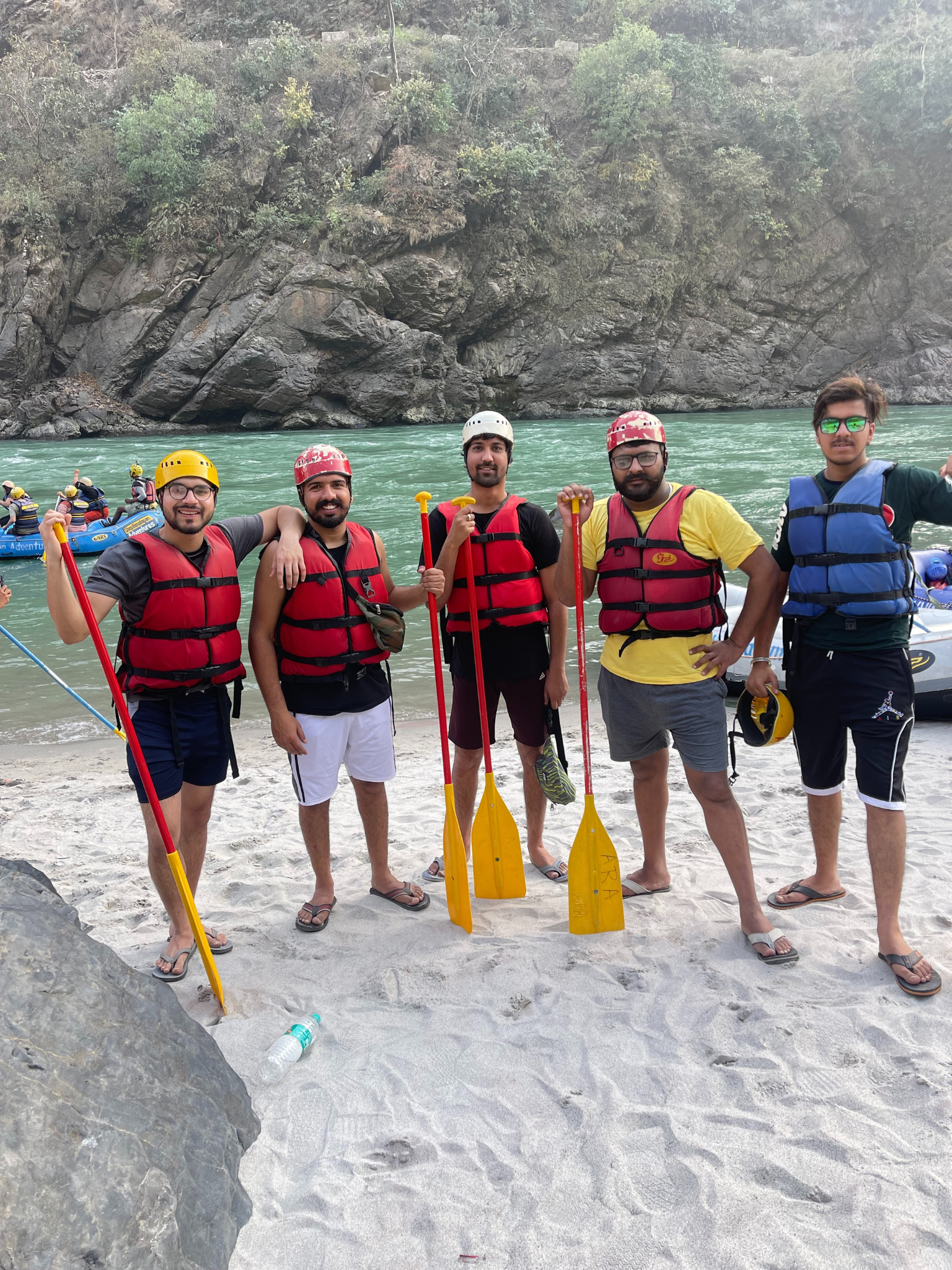 We left the hotel at 12 o'clock and went to Rishikesh and reached it by 2:30, Rishikesh was like a paradise for us because there the Ganga Ji waves give positive vibes.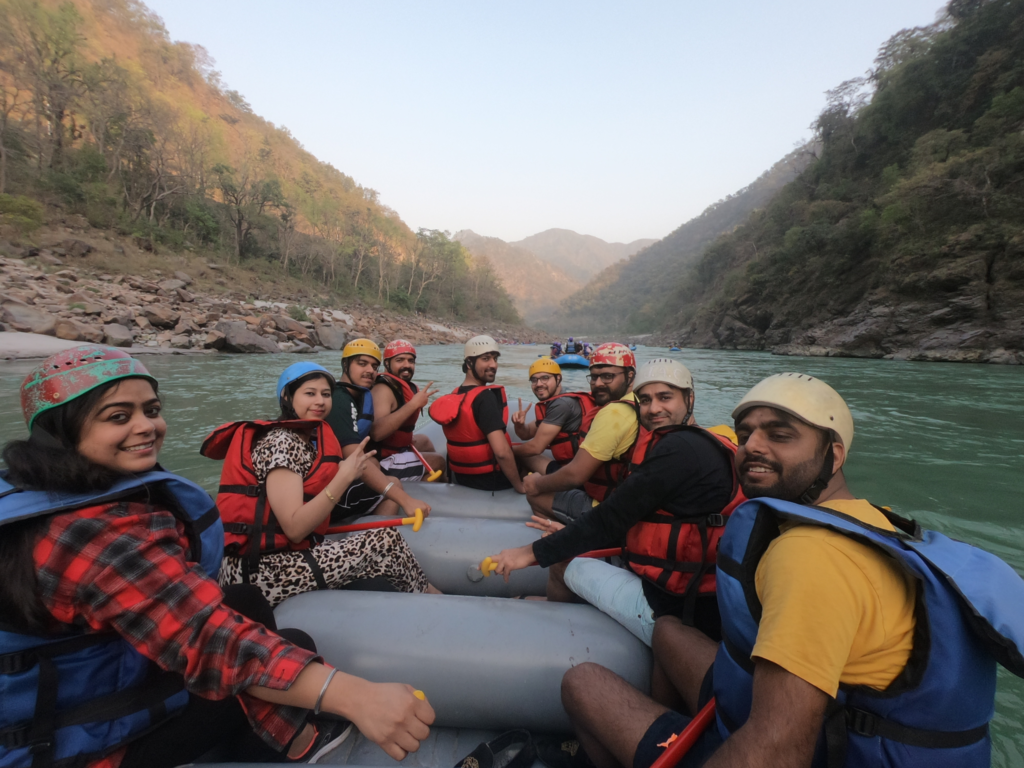 Then we had to do river rafting, for which only 5 out of 15 people got ready. But now another person named Sahil joined us to do the adventure. So we started our river rafting and there were a couple and 2 friends with us who were unknown to us but they did not remain unknown for long. It took us a lot of time to do rafting in which we ate Maggi at Maggi Point and also did cliff jumps. We had reached here at 6:30 in the evening and we had to come back on the same day, so we again saw the Ganga Aarti and left for our home from there. We got so many lessons and good memories on this trip which are probably hard to forget.