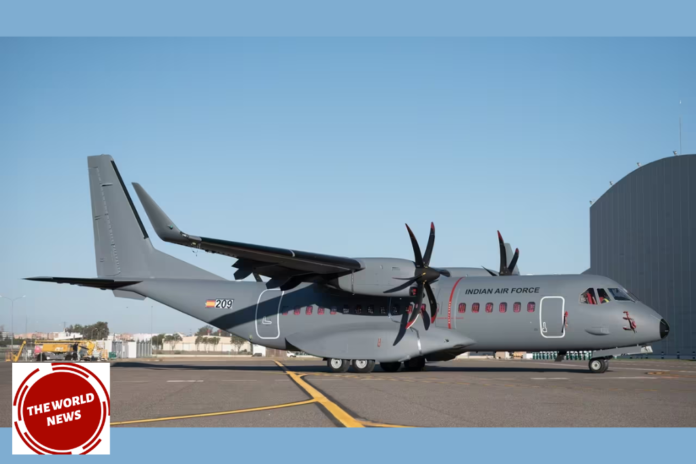 The Indian Air Force (IAF) recently celebrated the delivery of its first C-295 transport aircraft from Airbus Defence and Space, marking a key step in modernizing its transport fleet. With the completion of this milestone, a revolutionary project that will replace India's outdated Avro-748 fleet and increase its defense industrial independence officially gets underway. India made a significant advancement in improving its strategic airlift capability with the arrival of the first C-295. An in-depth analysis of this significant development is provided in this blog article, which also examines the C-295's features, ramifications, and potential in the Indian defense sector.
I. The C-295 Project: A Game-Changer for Indian Air Force
1.1 Background and Project Scope
The IAF initiated the C-295 project to modernize its transport fleet, targeting the retirement of aging Avro-748 aircraft from the 1960s.
The project, with a total cost of ₹21,935 crores, involves the procurement of 56 C-295 aircraft.
1.2 Delivery and Assembly
Airbus will deliver 16 aircraft in flyaway condition, while the remaining 40 will be assembled in India at Tata Advanced Systems Limited (TASL) facility in Gujarat's Vadodara.
1.3 Timeline
The first C-295 aircraft is set to arrive in India soon, with a formal induction ceremony scheduled at the Hindon airbase later this month.
The second C-295 is in the final assembly stages at Airbus's Seville facility and will be delivered in May 2024.
The last of the 16 flyaway aircraft will be handed over by August 2025, with the first 'Made in India' C-295 rolling out in September 2026 and the remaining 39 by August 2031.
II. Self-Reliance and Indigenous Manufacturing
2.1 Prime Minister Narendra Modi's Vision
In October 2022, Prime Minister Narendra Modi laid the foundation stone for the Vadodara manufacturing facility.
The C-295 project represents a significant step towards realizing the 'Make in India' initiative in the defense sector.
2.2 Private Consortium Manufacturing
The C-295 is the first military aircraft to be manufactured in India by a private consortium, indicating a shift towards greater self-reliance.
2.3 Components and Integration
More than 13,000 parts, 4,600 subassemblies, and all major component assemblies will be manufactured in India.
Airbus will provide critical components such as engines, landing gear, and avionics, which will be integrated into the aircraft.
III. C-295 Features and Capabilities
3.1 Payload and Personnel Capacity
The C-295 boasts a maximum payload capacity of up to 9 tonnes.
It can accommodate 71 personnel or 45 paratroopers, making it a versatile asset for troop transport and humanitarian missions.
3.2 Speed and Versatility
With a maximum speed of 480 km/h, the C-295 can swiftly respond to a variety of operational demands.
It can operate from short or unprepared airstrips, enhancing its suitability for diverse mission profiles.
3.3 Para-Dropping and Cargo Operations
The aircraft features a rear ramp, enabling para-dropping of troops and cargo, further expanding its operational flexibility.
IV. Strategic Implications
4.1 Strengthening India's Defense Capabilities
The induction of C-295 aircraft enhances the IAF's strategic airlift capabilities, enabling rapid deployment of troops and equipment.
It bolsters India's ability to respond effectively to regional and international security challenges.
4.2 Reducing Dependence on Aging Fleet
The retirement of the Avro-748 fleet, which has served for over six decades, is a critical step towards improving operational efficiency and safety.
4.3 Economic and Technological Growth
The 'Make in India' aspect of the project fosters economic growth by creating jobs and promoting indigenous manufacturing.
The transfer of technology and expertise from Airbus to Indian partners enhances the country's technological capabilities.
V. Logistics and Support
5.1 Performance-Based Logistics Support
The C-295 contract includes performance-based logistics support for five years, ensuring the aircraft's sustained operational readiness.
5.2 Supply of Spares and Ground Support
Spares will be supplied across 10 operating bases for 10 years, ensuring a steady supply chain.
Ground support equipment will be provided to facilitate maintenance and operations.
5.3 Training
Comprehensive training programs are integral to the project, ensuring that personnel are skilled in operating and maintaining the C-295 fleet.
Conclusion
The delivery of the first C-295 aircraft to the Indian Air Force signifies a significant milestone in India's defense modernization efforts. With its impressive capabilities and the promise of indigenous manufacturing, the C-295 project not only enhances the IAF's operational prowess but also underscores India's commitment to self-reliance in defense production.
As more C-295 aircraft are delivered and assembled in India, the country takes a giant leap toward becoming a prominent player in the global defense manufacturing arena, while ensuring its national security is robustly supported by a modern and versatile fleet of transport aircraft.
Stay updated with the latest news at The World News.