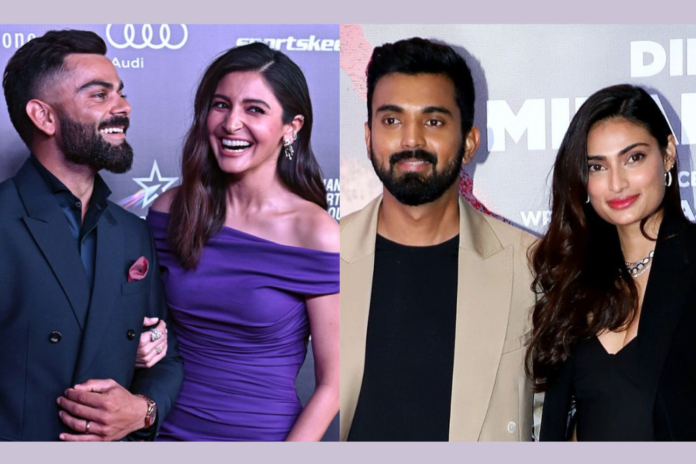 Cricket in India is more than simply a game; it unites the people as a whole. It is a sport that evokes intense passion and devotion among fans. When two cricketing giants, India and Pakistan, lock horns on the field, the excitement and fervor reach unparalleled heights.
In the Asia Cup 2023 clash between India and Pakistan, the cricketing world witnessed a spectacular display of talent as Virat Kohli and KL Rahul scored impressive centuries. However, what added a unique touch to this epic encounter was the heartfelt reactions of their loved ones – Anushka Sharma, Athiya Shetty, and Suniel Shetty.
The Asia Cup 2023 Clash: A Cricketing Extravaganza
The Asia Cup 2023 clash between India and Pakistan was much more than just a cricket match. It was a battle of skill, determination, and national pride. The rivalry between the two nations has a history as rich and deep as the sport itself, making every encounter between them a spectacle to behold.
Virat Kohli: A Masterful Century
Virat Kohli, the captain of the Indian cricket team, has been a symbol of consistency and excellence. His batting prowess is second to none, and when he walked out to bat in this high-stakes encounter, expectations were high. Kohli's century, a masterclass in timing and technique, was nothing short of spectacular. As he reached his 122 not out, the entire nation erupted in joy.
Anushka Sharma's Heartfelt Tribute
Anushka Sharma, a renowned Bollywood actor and Virat Kohli's wife, was watching the match with bated breath. She took to Instagram Stories to share her excitement and pride. Alongside a photo of her TV screen featuring Virat in action, she wrote, "Super knock, super guy (clapping and red heart emojis)!!"Millions of Virat's followers, who not only respect him for his cricketing prowess but also for his character and sportsmanship, were moved by Anushka's words.
KL Rahul: A Stellar Performance
KL Rahul, another shining star in the Indian cricketing firmament, played a knock that was equally praiseworthy. Scoring an unbeaten 111, he showcased his talent and composure under pressure.
His innings not only helped India secure a win but also earned him accolades from fans and pundits alike.
Athiya Shetty's Words of Appreciation
Athiya Shetty, an accomplished actor, and KL Rahul's partner, couldn't contain her excitement either. She took to Instagram Stories to congratulate KL Rahul with a simple yet heartfelt message – "Congratulations KL Rahul (clapping emoji)…". Her words reflected the admiration and support that partners provide to cricketers, standing by them in their highs and lows.
Suniel Shetty: The Proud Father-in-law
Suniel Shetty, a veteran actor in the Indian film industry and Athiya Shetty's father, also joined the chorus of appreciation. He shared a post on social media, congratulating KL Rahul for his outstanding performance. His words not only celebrated Rahul's cricketing achievement but also highlighted the bond between the two families.
The Power of Love and Support
The reactions of Anushka Sharma, Athiya Shetty, and Suniel Shetty are a testament to the power of love and support in the lives of cricketers.
While these athletes dedicate their lives to the sport, their loved ones play an equally vital role in their journey. The unwavering support and encouragement from family and partners help them stay focused and motivated even in the face of immense pressure.
The Journey of Anushka Sharma and Virat Kohli
Anushka Sharma and Virat Kohli's love story is one that has captured the imagination of fans and the media alike. Their relationship is a beautiful example of two successful individuals coming together and supporting each other in their respective careers.
Anushka, a powerhouse in Bollywood, and Virat, a cricketing legend, have consistently stood by each other through thick and thin.
Athiya Shetty and KL Rahul: A Budding Romance
Athiya Shetty and KL Rahul's relationship has also garnered attention in the public eye. Both are young, and talented and have achieved success in their respective fields.
Their partnership represents the modern-day love story where two individuals with their own identities come together to create a supportive and loving bond.
Conclusion
In the world of sports, success is often celebrated with trophies and records. However, it is essential to recognize that behind every athlete's triumph, there is a network of love and support that keeps them grounded and motivated.
The heartfelt reactions of Anushka Sharma, Athiya Shetty, and Suniel Shetty to Virat Kohli and KL Rahul's centuries in the India vs. Pakistan Asia Cup 2023 clash remind us of the significance of family and loved ones in the lives of our beloved cricketers.
Their words of appreciation not only make us admire these cricketers more but also emphasize the importance of celebrating love beyond boundaries, both on and off the field.
Stay updated with the latest news at The World News.