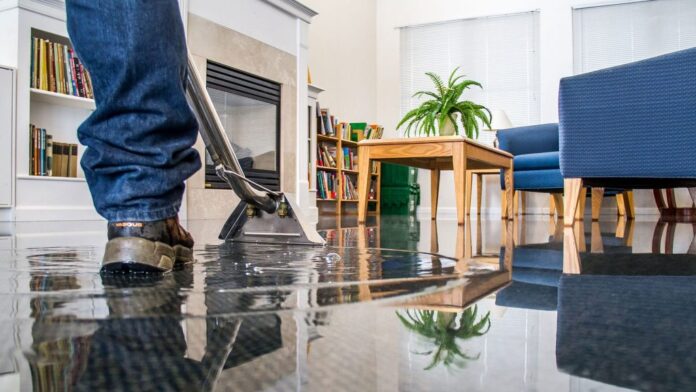 Water damages can be caused for several reasons, and depending on the reasons, they are classified into various categories. No matter what category they fall into, the damages caused by them can be severe and, if not treated timely, can cause irrecoverable damages. Therefore timely and efficient water damage restoration Perth based on their type is essential to save your property and yourself from incurring any further losses. At a reasonable rate, we at GSB Flood Master provide a swift and effective restoration process for such damages, whatever may be the cause.
Extracting water from your property can be quite a cumbersome process and may need some professional instruments and expertise in the job for more efficient results. These damages can be caused due to any reason like clogged pipes, leaking roofs, overflowing toilets and sinks, sewage, floods, etc. Depending on what is the cause, the level of danger of treating them and the chances of contaminants present in the water, these can be classified into different categories
Book an Appointment
Three Types of Water Damage
These damages can be broadly classified into three types depending on the level of danger it poses for the people handling them. These three types are:
Clean Water Damages– These types of damages are caused due to broken or clogged pipes, supply lines, bathtubs, sinks, taps, etc. It is primarily clean as it does not contain any toxins or sewage. Handling these damages usually poses no threat and is not quite harmful to the people living there. It can be handled by anyone and need no special safety measures, though professional equipment and help will lead to more effective results. The drying process is also much more manageable in these types of damages.
Grey Water Damages– These damages are more critical than the clean ones and need some minor precautions. It results from toilets, washing machines and other such appliances that have a chance of containing chemicals or waste. Though the process of extraction and restoration is not that harmful, it definitely needs some special attention. However, since they may contain waste or chemicals and can be mildly contaminated, the medicines, cosmetics, and many other affected items of intake or body use should be discarded. Once the damage is restored, you need to get your house disinfected.
Black Water Damages– These are the most dangerous category among the three. It results from sewage, flood, sea or river overflow. If your house is stuck with this category of damage, you need to take swift action and treat it immediately. This category of damage can be very harmful and can pose serious health risks, and thus is better to let professionals handle them. In this category, you might need to dispose of several items and materials that have come in contact withBlackwater. Your place needs to be dried and restored safely and thoroughly, and you need to get them significantly disinfected.
Get an Instant Free Price Quote
Water Damage Restoration Process
We at GSB Flood Master follow a systematic water damage restoration process
We do the analysis of the category of damage and take further precautions and steps accordingly.
We detect and repair the source of damage.
We then extract water from your property using professional equipment like submersible pumps and vacuum cleaners.
We find and remove any visible or hidden mould growth and also take preventive measures for its regrowth.
We dehumidify the place using professional machines like air movers and dehumidifiers, to ensure that no trace of moisture is left behind.
We sanitise and disinfect the affected area.
We deodorise the place for a mild and fresh fragrance. 
GSB Flood Master provides efficient, affordable water damage restoration based on their type. We treat these under emergency services and thus offer swift service in restoring your property after such damage. We have experienced professionals who use industry-grade products and advanced equipment to provide the best service in and around Perth, Western Australia.
Contact Us Today!!!